Discussion Starter
•
#1
•
Hi fellas, I have been a long time member of the mytractor forum for about 5 years, I just joined the mylawnmower forum a couple weeks ago because my Craftsman push mower was dead and they got me back up and running. Now my Craftsman Leaf blower is giving me fits.
History: Started and ran several times this spring already. Fresh gas to start the year. It usually started in 2-3 pulls and once started, I would need to keep reving it to keep it going. If I let it idle, it would die and if I just floored the throttle it would die. It took a long time (longer than I remember previously) to get to a point that it would run at either full throttle or at idle without dying. Also, it seemed to have just a little less power than before but I may have been imagining this. Anyway, I have used it several times this spring as I said with not much trouble starting it. Starting in early April, I used it to clear all the sand off the road in front of our house after the snow plows load it up over the winter. That was a good hour of running time. Then I have used it to blow leaves from around the house. A good half hour straight. Then a few times to clean drive and deck after mowing the lawn for just 5 or 10 minutes each time (3 or 4 times). Today, I wanted to blow some leaves that had collected under a trailer and it tried to start on the second pull but died. Subsequent pulls showed no sign of life. I let it set for an hour in the shade and tried again, nothing. I tried several hours later and nothing. I pulled the plug and plenty of gas on it. The plug looks good. I tested for spark and have good blue spark. I pulled the plastic side plate off and the back piece covering the air filter. I cleaned the air filter and put it back in and tried to start it, but nothing. I have got rid of the gas, emptied the gas tank and refilled with fresh 40:1 premium (no ethanol) gas. Still no love.
You guys helped me out a week ago on my Craftsman push mower but now that I have that running, the leaf blower is giving me fits. Craftsman is making my life difficult this Summer.
If anyone has any other suggestions, let me know. Easy and cheap fixes first please. Oh, when I pulled off the plastic side plate, this part was full of nasty oily gunk as shown in the photo. I don't think it would cause the problems I am having, but maybe it is a symptom. It is called the "Crankcase Plug Assembly".
Here is the data plate on the blower: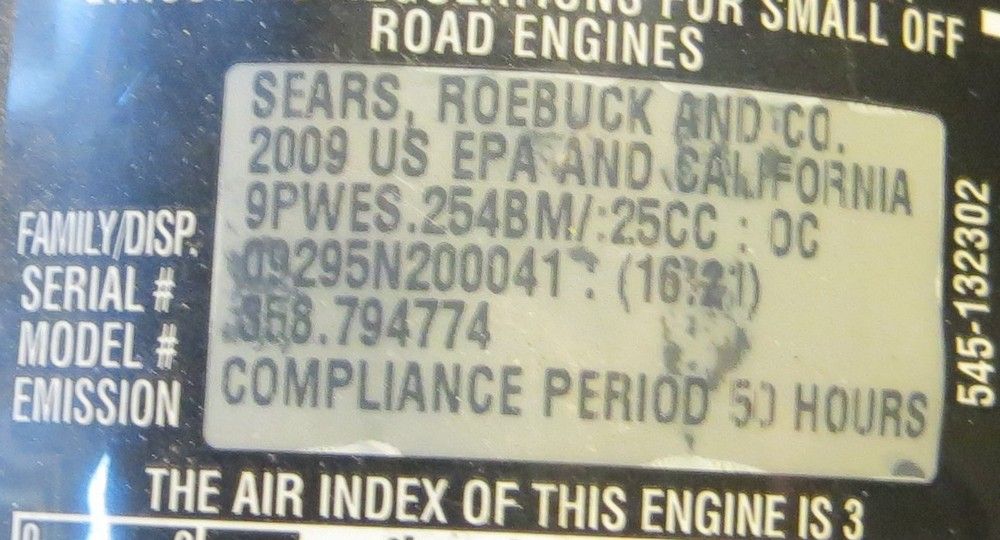 And, here is the shroud I removed from the side: